When talking about modern Boho fashion, the usual route will take you to music festivals such as the global phenomenon, Coachella. For a few days, you can see women dress-up for the occasion, donning tiered skirts, fringes, embroidered or crocheted tops, boots and sandals. They top their look with jewelry and accessories that scream Boho – beaded earrings, charm bracelets, chunky neckpieces, fringed bags, the works.
There are women though that went beyond festivals in embracing the boho fashion. It is ingrained in their very core that it has become their lifestyle. They come out as free-spirited, unconventional, artistic individuals – empowered women. You might be wondering, what is it about the Boho fashion that draws more and more women to embrace it? 
The origins of the Boho lifestyle
Before deciding to go the boho lifestyle, you have to know and understand how the style came about. Bohemian, from where "boho" was derived from, was believed to have started towards the end of the French Revolution. Around this time, the French creatives that included artists, writers and musicians, among others, lost the support of their wealthy patrons. This drove them into poverty and had to live off their limited resources.
Having limited resources was not a hindrance though in their creative expression. While they were leading a life of less possessions, they found more avenues to put their creativity and imagination at work. They repurposed their worn-out clothes into something more artistic and eccentric. They led a more laid-back and nomadic lifestyle and valued freedom and change. Their life in general, while unconventional, became a statement and a movement that spanned generations. 
What is Boho Fashion?
The statement is of course expressed more vividly in the clothes they fashioned – use of natural materials, colorful shades, patterns, layers, embellishments. They wear clothes that are mostly loose to fit their nomadic lifestyle. They were brought to a different level, being regarded more as geniuses than peasants.
With those in mind, you can cop the same fashion and be as empowered without putting on too much pressure and effort. 
How to dress in boho style
Boho fashion and style has evolved over the years. It was more connected to the 60's and 70's during the hippie era but women of today have put a more modern spin on it. The movement still is consistent – showing unconventional, free-spirited individuals in their own artistic and spiritual life journeys. 
So, how exactly do you dress in boho style? Here are some starters to let you in on the boho fashion.
• Get the perfect peasant top
One of the most noteworthy pieces in boho fashion is the peasant top. What makes a top, "peasant" in style? 
The top is often characterized by a wide neckline and puffed, bishop sleeves. The neckline and the waistband are often smocked with elastic threads. What is mostly present in peasant tops is the embroidery along the neck or on the sleeves. Others use jewels, beads and other embellishments to pop the top even more. Another thing to remember is that it has to be loose and flowy.
• Swirl the tiered skirts
Talk about reconstruction. In the old days, women repurposed and recycled their clothes and other materials to make new clothes. In the case of skirts, they make the most of whatever limited resource they have and thus, create tiers out of the cloth they have and make one long, flowy skirt. 
The tiered skirts can go from 3 tiers to as many as you want. You can also choose the length that suits the occasion you are wearing the skirt to.
• Move in flowy pants
You may be one of those that steer away from pants because you want your legs to be free. But there are flowy pants usually made out of the lightweight rayon textile that just flows and drops freely. They are a staple for those travel enthusiasts that want to just wear light. They are usually garterized on the waist with others having smock designs on the waist band. 
Others would go for the harem type and cuff at the ankles to emphasize a baggier and more flowy effect. 
For the more fashionable ones, they also apply tiers to their flowy pants sticking true to the boho theme. If you are one that still loves their jeans, you can opt for the wide legged or bell-bottomed ones for the boho style.  
• Layer with a kimono or vest
Layering adds texture and character to any outfit and boho fashion is not one to dismiss this. The popular layer or outerwear that women of boho style go for is the kimono. Much like the Japanese origin of the word kimono, it truly is a thing to put on.
The boho kimono is usually made of a light fabric such as silk, rayon, linen, lace or cotton. The sleeves are flowy and airy and the length can go from the regular to mid-thigh to long. To make a bolder statement, you can choose ones that are accented with fringes or patterns and other designs.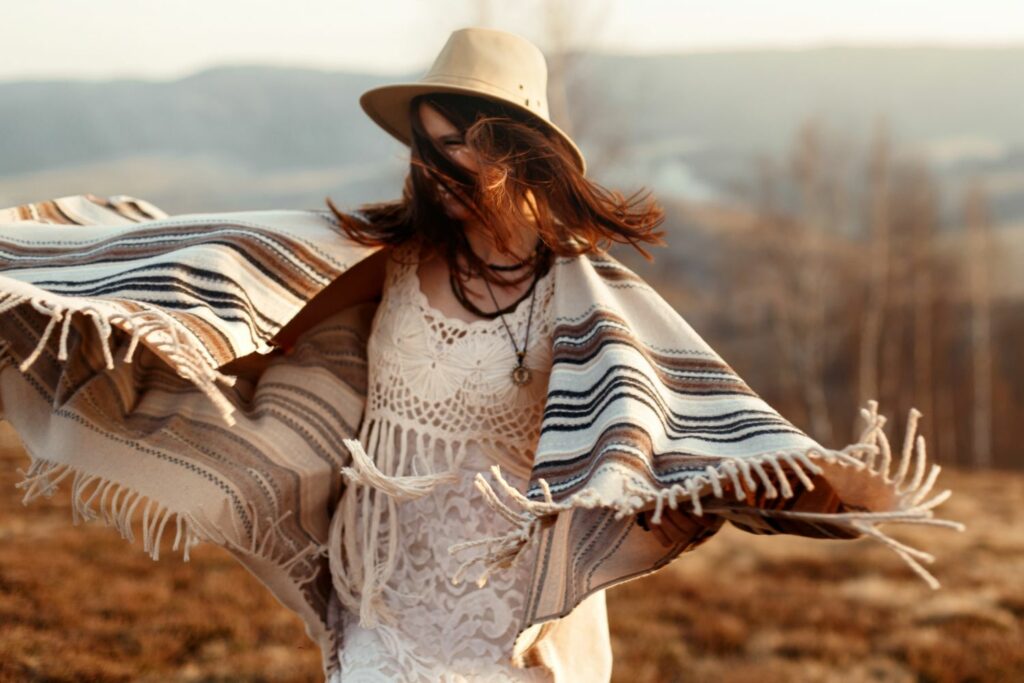 If you are not a kimono type of person but would want to layer, then you can go for boho-styled vests of the same materials and patterns. You can even go with denim vests embroidered with boho patterns or embellished with beads, fringe and other jewels.
• Walk in statement footwear
Make your shoes or sandals a conversational piece. Strut your boho vibe with a pair of laced up leather boots. You can go for ankle-high ones to match your long skirts or even knee high boots to match your short dress or shorts.
Boho footwear also includes leather sandals, platform shoes, wedges, gladiator sandals, espadrilles. Almost always what makes them boho is the adornments added to them – studs, tassels, beads, embroidery, patterns, gems.
• Crown your head with boho headwear
Your headwear is the crowning glory of your boho outfit. Flower crowns are popular in boho fashion and are worn usually in events like weddings and themed festivals. But boho headwear can come in many forms. You can wear bandanas, knotted turbans, head scarves that bear boho prints and patterns.
Are you a fan of hats? Yes, they're in the list of boho fashion staples too. You can go for the fedora, cowboy, bucket, leather or straw hats. The design and prints on your hats can make it more boho – feathers, tassels, jewels, lace, tribal prints and others.
• Go for a saturated color palette
The modern take of the boho style uses both warm and cool colors that exude serenity, confidence and courage. Others would prefer the safe side and choose the more earthy and neutral shades like browns and beiges. But as the fashion evolves, the boho style already infuses splashes of warm colors such as deep reds, pink, bright orange and gold. You can also mix in the cool shades like turquoise, teal, seafoam green, indigo.
• Choose unconventional patterns
The boho fashion also embraces patterns. This is not your usual stripes or polka dots or prints that you can mix and match. Boho fashion is about boldness so you can expect to see clashing patterns that can actually complement each other through styling and a confident attitude.
Patterns can go from tribal designs to the intricate, paisley designs. Others go for the lattice style, moroccan-inspired designs. If you want to go back to the hippie way, you can choose the psychedelic tie-dye patterns. If you want to stay on the sweet side, then go for the basic small, floral pattern.
• Accessorize, accessorize, accessorize
With the basics in place, it's time to take your boho outfit up a notch by accessorizing. You can accessorize from head to toe.
Adorn your hair with clips and barrettes with chains, feathers, wood and jewels or stones. If you're the ponytail type that likes to put your hair up, you can use elastics with boho elements on it.
To add more pop in your outfit, wear boho style jewelry like these teardrop hoop earrings of vivid colors. You can mix that in with a beaded necklace or chains that can be layered to add more texture to your outfit. Charm bracelets are important elements to add. As with the necklaces, you can also wear as many bracelets as you can. They can be made of beads, leather, stones, wood, rope. Then, don't forget the chunky rings on your fingers.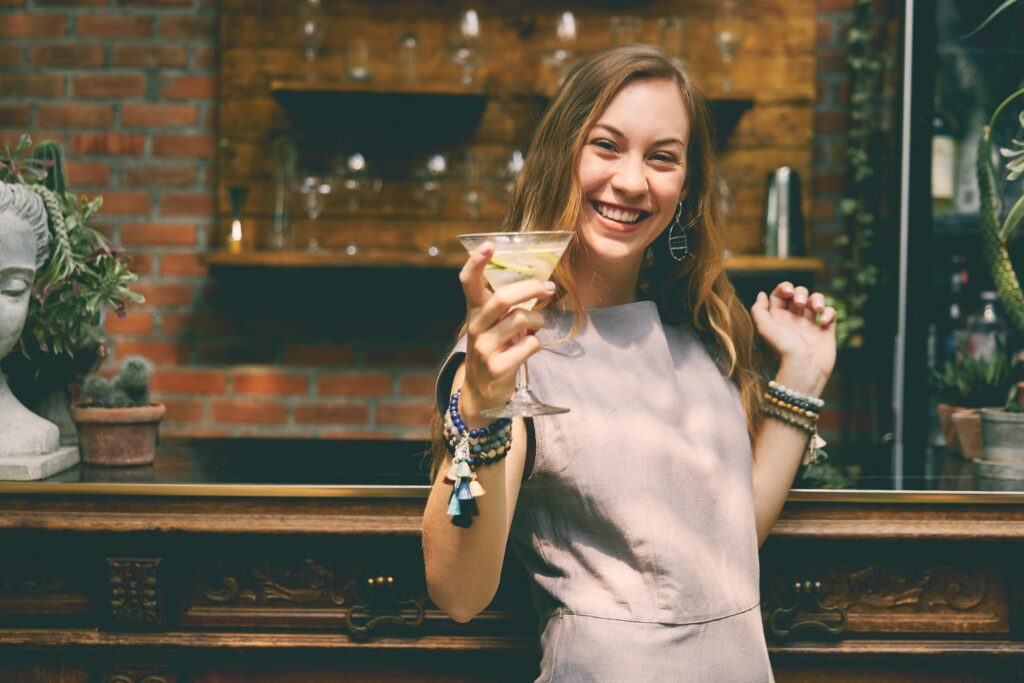 Feel confident, feel empowered
It's not just the boho pieces that can make you feel more confident and empowered. You could be all-out when it comes to wearing boho fashion. But if you do not have the free spirit and the right attitude to go with it then there's no sense in embracing it.
Let your creativity flow out of you. You are genius artists, after all.