Boho Teardrop Gold Earrings Green Drop Hoop Earings – Bohemian Jewelry for Women by Akitai (Red)
Akitai combines beads and stones in exquisite and multi-colored boho style earrings. Turquoise, blue, green, white and grey tones inspired by places you love. Our jewelry evokes warmth and radiance, filling you with compliments whatever the occasion. Birthday, mother's day, Christmas, Valentine's day, friendship or business, an ideal bauble bar accessory collection. All our jewelry is lead-free and nickel-free, light weight and maintenance free. Easy to wear, fashionable and giftable. Each piece comes in a lovely gift bag as our treat to your loved ones and yourself.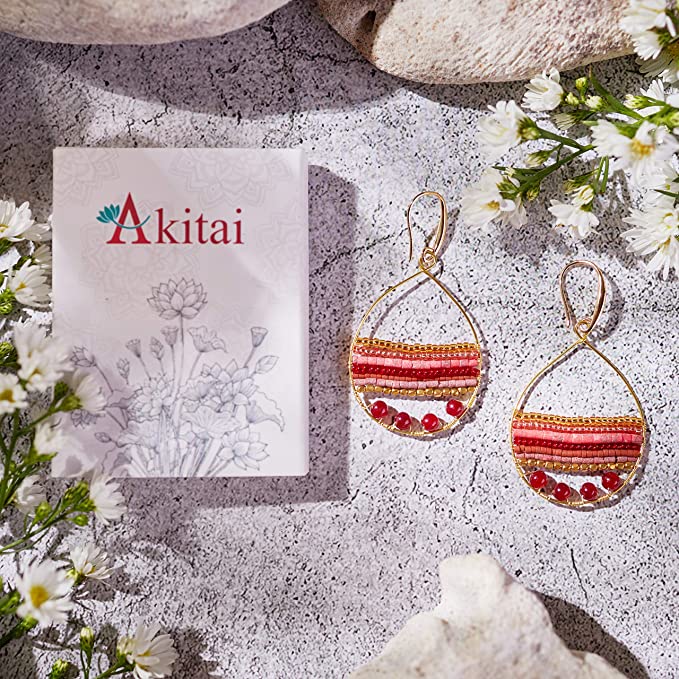 RED TONES IN GOLD HOOP DANGLE EARRINGS
Bring the Coachella babe in you and rock every outfit with these gorgeous turquoise stones blended with red, peach, gold, and dandelion beads. Each hoop weighs only 3 grams (2×1.5 inches) so lightweight that it'll just tangle in your hair perfectly!
HANDMADE AND VERSATILE BOHEMIAN HOOPS
This ornament is carefully made by the talented hands of women artisans in Thailand. It is gold and silver plated, tear-drop in shape, and can flawlessly match any hairstyle, outfit, venue, whether a beach getaway or fun festival, Akitai will never let you down. In fact, it'll make every stare worthy!
BEST WOMEN'S GIFT IDEA
Go match earrings with your bestie! Show appreciation to your mom, and make your girlfriend or wife feel extra special for Ikitai earrings also comes up with a delicate, ornamented, corrugated recyclable gift box; making this fancy hoops the cutest gift EVER!!!
SAFE TO WEAR
Your health, trust, and satisfaction are our top priority. Akitai Boho jewelry is absolutely lead-free, nickel-free, and hypoallergenic. With that, you can slay and dress up with no worries ladies!
100% MONEY BACK GUARANTEED
With Amazon you can return it for free within 30 days. No questions asked.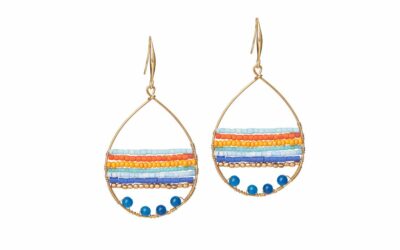 Boho Teardrop Sante Fe Beaded Gold Hoop Dangle Earrings. Handmade Bohemian Colorful Drop Earing...
Visit the Akitai Amazon Store