Akitai Frida Kahlo Inspired Purple Mandala Canvas Print Women Purse – Tote – Handbag – Art Bag in the Image of Frida Kahlo – Accesories Merchandise Costume
Are you looking for something Unique and Stylish?
Then This bag is for you. It will make you stand out from the ordinary
This is the Perfect gift for any lady or girl who likes to stand out and be a little different
Features include:
Large size: 18" x 14" x 3.5"
4 Variations
Inner Pocket with Zip for your valuables
Easily fit a Laptop or Tablet
Straps for easy carry over the shoulder
Perfect for any situation from Casual life, Studying, Travelling, Young and Adults
Wear with pride as a symbol of freedom and empowerment or give as a gift for teens or women.
Ships Directly from Amazon FBA for fast delivery
Thank you for supporting Akitai
"This Item is not an authorized or licensed product of the Frida Kahlo Corporation, and there is no business relationship between the seller and the Frida Kahlo Corporation. The Frida Kahlo Corporation has not endorsed, sponsored, or authorized its sale."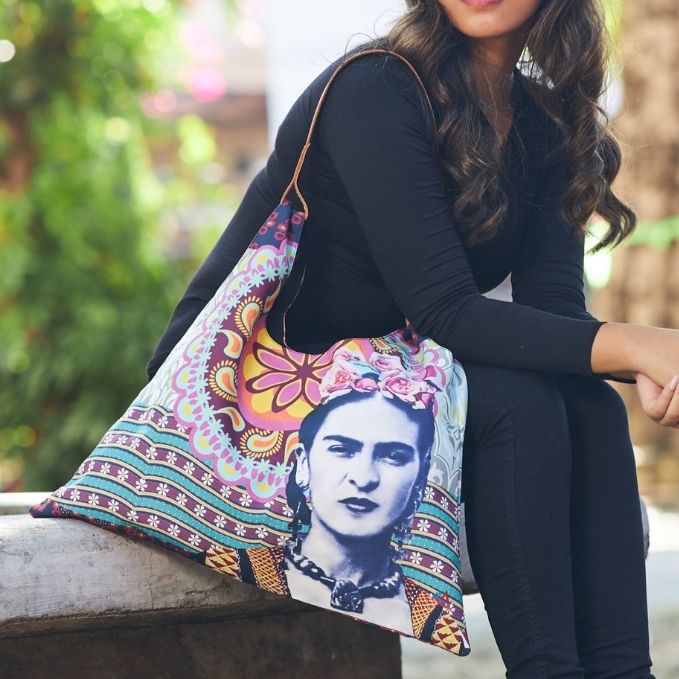 AKITAI BAG DESIGN SHOWING MEXICAN ARTIST FRIDA KAHLO
Carry this original imported purse showing Frida Kahlo and always remember the hope and empowerment she represents.
A BAG FOR EACH DAY AND OCCASION
This colorful canvas Frida Kahlo inspired purse is perfect for any situation. You can use it for casual nights with your friends, a day out shopping, on your way to work, and even out on the beach.
GENEROUS SIZE
18" x 14.5" x 2.5" – This stunning tote bag holds all your essentials, including laptop, tablet and i-pad. Featuring a large internal zip pocket, this beautiful bag ensures your mobile and valuables are well organized and safe.
QUALITY DURABLE PURSE
With everything this great artist stood for, she deserves quality materials. This purse is made with a double layer of resistant canvas fabric with reinforced 100% vegan brown leather strap.
100% FAST SHIPPING AND MONEY BACK GUARANTEE
If for whatever reason you are not satisfied with this Kahlo inspired purse, you can return it for free within 30 days. Fulfillment by Amazon ensures fast shipping and quality service.
DISCLAIMER
𝘛𝘩𝘪𝘴 𝘐𝘵𝘦𝘮 𝘪𝘴 𝘯𝘰𝘵 𝘢𝘯 𝘢𝘶𝘵𝘩𝘰𝘳𝘪𝘻𝘦𝘥 𝘰𝘳 𝘭𝘪𝘤𝘦𝘯𝘴𝘦𝘥 𝘱𝘳𝘰𝘥𝘶𝘤𝘵 𝘰𝘧 𝘵𝘩𝘦 𝘍𝘳𝘪𝘥𝘢 𝘒𝘢𝘩𝘭𝘰 𝘊𝘰𝘳𝘱𝘰𝘳𝘢𝘵𝘪𝘰𝘯, 𝘢𝘯𝘥 𝘵𝘩𝘦𝘳𝘦 𝘪𝘴 𝘯𝘰 𝘣𝘶𝘴𝘪𝘯𝘦𝘴𝘴 𝘳𝘦𝘭𝘢𝘵𝘪𝘰𝘯𝘴𝘩𝘪𝘱 𝘣𝘦𝘵𝘸𝘦𝘦𝘯 𝘵𝘩𝘦 𝘴𝘦𝘭𝘭𝘦𝘳 𝘢𝘯𝘥 𝘵𝘩𝘦 𝘍𝘳𝘪𝘥𝘢 𝘒𝘢𝘩𝘭𝘰 𝘊𝘰𝘳𝘱𝘰𝘳𝘢𝘵𝘪𝘰𝘯. 𝘛𝘩𝘦 𝘍𝘳𝘪𝘥𝘢 𝘒𝘢𝘩𝘭𝘰 𝘊𝘰𝘳𝘱𝘰𝘳𝘢𝘵𝘪𝘰𝘯 𝘩𝘢𝘴 𝘯𝘰𝘵 𝘦𝘯𝘥𝘰𝘳𝘴𝘦𝘥, 𝘴𝘱𝘰𝘯𝘴𝘰𝘳𝘦𝘥, 𝘰𝘳 𝘢𝘶𝘵𝘩𝘰𝘳𝘪𝘻𝘦𝘥 𝘪𝘵𝘴 𝘴𝘢𝘭𝘦.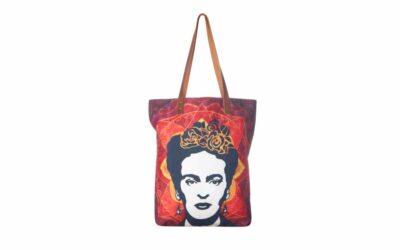 Akitai Frida Kahlo Inspired Portrait Buenos Aires Mural Mandala Red Tote Bag Relaxed - Shoulder -...
Visit the Akitai Amazon Store