Akitai Charm Bracelets for Women- Amazonite Howlite Turquoise Good Luck Stones -Farewell Gifts – Crystals Stretch Bangle – Elephant Charm Protection Gemstone
Gem Type: Amazonite Howlite Turquoise
Starting a new chapter in life? Look no further! This handmade piece of jewelry will convey a healing energy and feeling for that special person: coworker, friend, boss, relative or girlfriend. Our jewelry thoughtfully combines beads and stones to help relieve stress, balance energy and emotions when wearing them. This bracelet will help them relax and maintain hope through difficult times. Handcrafted in Thailand with care and love by master women artisans, this is the perfect gift because it can be worn in so many ways and combinations: at work, casual, going out, practicing yoga, meditation, stacking them or wearing them separately. And the 4 bracelets come in a lovely box which is 100% recyclable.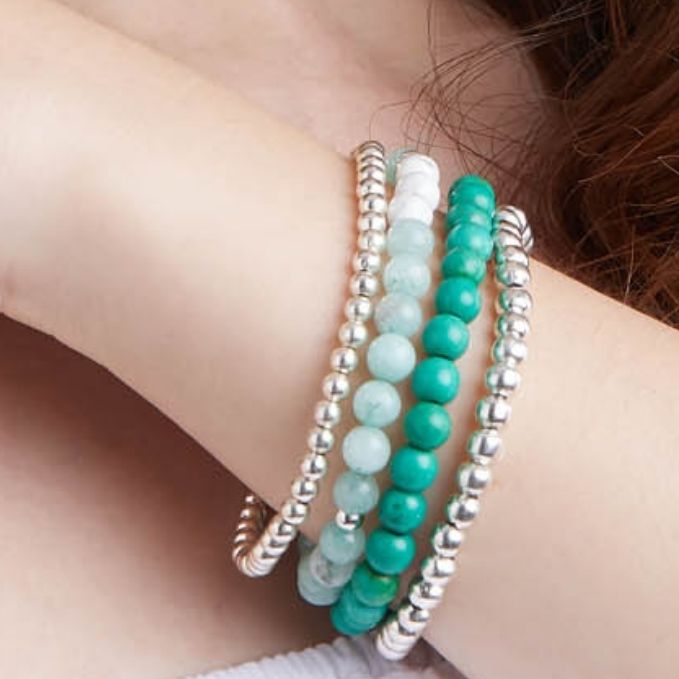 THOUGHTFUL & POWERFUL
Each part of this charm bracelet has power and meaning. The various stones used to make these charm bracelets represent and attract certain beneficial qualities.
A HOPEFUL REMINDER
The Amazonite stone keeps hope alive by clearing and aligning hearts with its empowering energy. It helps reminds people that hardships shall pass and good things await ahead.
CALM AND CLARITY
With the Howlite stone, wearers receive an overwhelming sense of calmness. It helps cool down hot tempers, clear cloudy minds, and grant a clear sense of awareness.
A HEALING GIFT
The natural stone and crystal charm bracelet harmonizes energies and fosters hope for those going through challenging moments. This gift can help lift spirits and heal bodies.
SIZE and WEIGHT
This handmade charm bracelet uses 6m and 4m stones and weigh approx 20gm or 0.7 oz each. It measures approximately 7″ in diameter and is a comfortable fit on any woman's wrist.
UNIQUE & VERSATILE
Handmade in Thailand, the bracelet uses authentic gemstones and silver plated brass beads. Fashion and function meet in this healing charm bracelet, wearable in any occasion.
100% MONEY BACK GUARANTEED
You can return it for free within 30 days. No questions asked.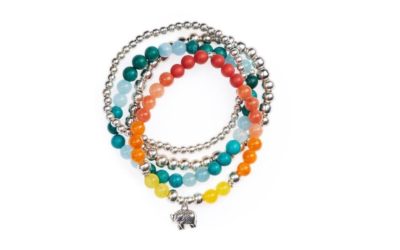 Akitai Charm Bracelets for Women - Mix Good Luck Stones - Farewell Gifts Womens - Crystals Stretch...
Visit the Akitai Amazon Store